Welcome to Gil Boyne Online.
Gil Boyne made many original contributions to the practice of hypnotherapy in over 55 years of Hypnotherapy practice and teaching, and trained more than 12,000 hypnotherapists worldwide.
Gil Boyne Online is part of Gil's legacy of valuable teaching and is a fantastic resource for hypnotherapists of all levels, and especially for those who missed the opportunity to see Gil at work while he was alive.
Whether you are looking to be the best hypnotherapist you can be, or just someone with an interest in hypnotherapy, there is no better person to learn from than one of the pioneers of modern hypnotherapy.
Gil's Awards & Honours
1959: Technical Director on feature motion picture film, "The Hypnotic Eye."
1960: Writer and Technical Director for television pilot fim, "Above and Beyond."
1961: Writer and Technical Director for television pilot film, "The Eleventh Hour."
1981: Doctor of Humane Letters – honorary degree awarded by Newport University, Newport Beach, Calif., for his lifetime achievement in Mind Sciences.
1982: Doctor of Humane Letters honorary degree awarded by the University for Humanistic Studies in San Diego, Calif., for his exceptional contribution to the Humanistic Sciences.
1990: "Lifetime Achievement Award"awarded by the American Council of Hypnotist Examiners.
1992: Doctor of Philosophy, in Transpersonal Psychology honorary degree awarded by Westbrook University, New Mexico.
1992: "American Eagle Leadership Award" given in recognition of Thirty-Five Years of Exceptional Leadership to the Profession of Hypnotherapy awarded by the American Council of Hypnotist Examiners.
1996: Named as One of Glendale's 100 Most Influential Citizens (Glendale News Press, Feb. 28) Honoring individuals who had the ability and the courage to effect change in education, religion, charity, sports, law enforcement, and politics.
1997: Honorary Life Member awarded by the New Zealand Hypnotherapists Association.
1997: Fellowship award for distinguished service awarded by the Australian Academy of Hypnotic Science.
1998: Post Graduate Diploma of Psychotherapy awarded by the Australian College of Clinical Hypnotherapy
April 8, 2000: Gil Boyne was inducted into the International Hypnosis Hall of Fame, at Valley Forge, PA. He received the special award, "MAN OF THE CENTURY." This award symbolizes global recognition for his innovative genius in the therapeutic and healing applications of Hypnotherapy.
June, 2000: Awarded Fellowship by the National Council for Hypnotherapy (UK)
May, 2003: "Lifetime Achievement Award," by the Royal Hong Kong Hypnotherapy Association
2007: Honorary degree "Doctor of Religious Education" awarded by Lorland University, Bakersfield, CA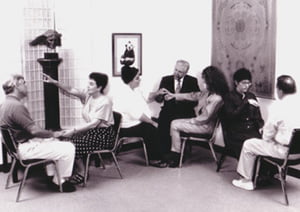 "Gil Boyne, you have single-handedly created a new profession in America;
the profession of Hypnotherapy!"
William Unger, Asst. Director, California Council for Secondary Education"
Professional Credentials
Director, Hypnotism Training Institute of Los Angeles
Founder and CEO, Westwood Publishing Company
Founder and Director, Hypnotherapy Counseling Center
Co-Founder, British Council of Hypnotist Examiners
Executive Director, American Council of Hypnotist Examiners
"Gil's instruction and his advice on developing a practice and marketing my services helped me to become a highly effective practicioner. I feel that every serious student and practicioner of hypnotherapy should have the opportunity to study with Gil Boyne, the creator of modern Hypnotherapy."
Tim Simmerman, Director, Hypnotherapy Academy of America, Sante Fe, New Mexico