FROM: WEEKEND PEOPLE MAGAZINE, LONDON, ENGLAND, JUNE 1987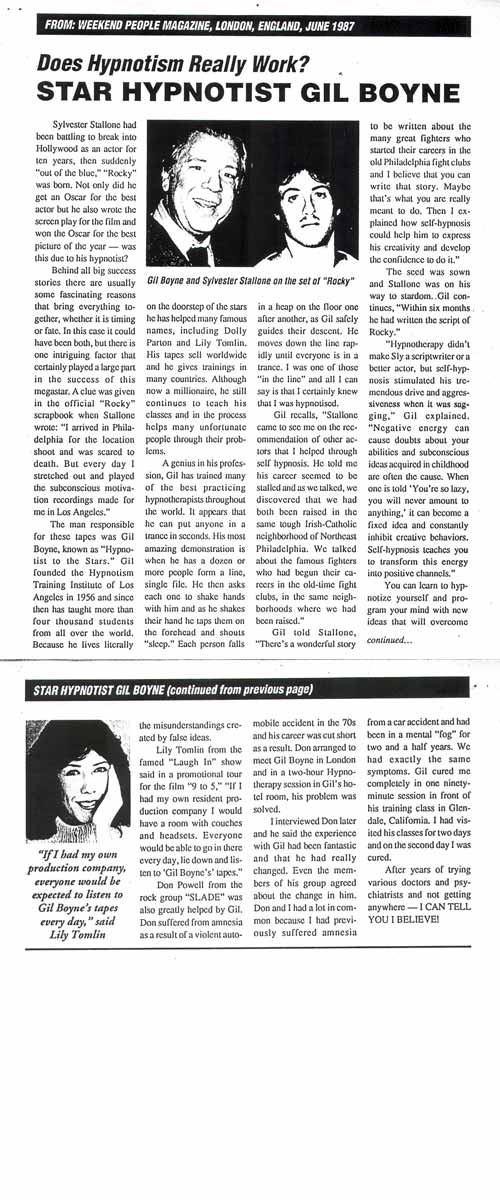 Does Hypnotism Really Work?
STAR HYPNOTIST GIL BOYNE
Sylvester Stallone had been battling to break into Hollywood as an actor for ten years, then suddenly "out of the blue," "Rocky" was born. Not only did he get an Oscar for the best actor but he also wrote the screen play for the film and won the Oscar for the best picture of the year – was this due to his hypnotist?
Behind all big success stories there are usually some fascinating reasons that bring everything together, whether it is timing or fate. In this case it could have been both, but there is one intriguing factor that certainly played a large part in the success of this megastar. A clue was given in the official "Rocky" scrapbook when Stallone wrote: "I arrived in Philadelphia for the location shoot and was scared to death. But every day I stretched out and played the subconscious motivation recordings made for me in Los Angeles."
The man responsible for these tapes was Gil Boyne, known as "Hypnotist to the Stars." Gil founded the Hypnotism Training Institute of Los Angeles in 1956 and since then has taught more than four thousand students from all over the world. Because he lives literally on the doorstep of the stars he has helped many famous names, including Dolly Parton and Lily Tomlin. His tapes sell worldwide and he gives trainings in many countries. Although now a millionaire, he still continues to teach his classes and in the process helps many unfortunate people through their problems.
A genius in his profession, Gil has trained many of the best practicing hypnotherapists throughout the world. It appears that he can put anyone in a trance in seconds. His most amazing demonstration is when he has a dozen or more people form a line, single file. He then asks each one to shake hands with him and as he shakes their hand he taps them on the forehead and shouts "sleep." Each person falls in a heap on the floor one after another, as Gil safely guides their descent. He moves down the line rapidly until everyone is in a trance. I was one of those "in the line" and all I can say is that I certainly knew that I was hypnotised.

Gil recalls, "Stallone came to see me on the recommendation of other actors that I helped through self hypnosis. He told me his career seemed to be stalled and as we talked, we discovered that we had both been raised in the same tough Irish-Catholic neighborhood of Northeast Philadelphia. We talked about the famous fighters who had begun their careers in the old-time fight clubs, in the same neighborhoods where we had been raised."
Gil told Stallone, "There's a wonderful story to be written about the many great fighters who started their careers in the old Philadelphia fightclubs and I believe that you can write that story. Maybe that's what you are really meant to do. Then I explained how self-hypnosis could help him to express his creativity and develop the confidence to do it."
The seed was sown and Stallone was on his way to stardom. Gil continues, "Within six months he had written the script of Rocky."
"Hypnotherapy didn't make Sly a scriptwriter or a better actor, but self-hypnosis stimulated his tremendous drive and aggressiveness when it was sagging," Gil explained.
"Negative energy can cause doubts about your abilities and subconscious ideas acquired in childhood are often the cause. When one is told 'You're so lazy, you will never amount to anything,' it can become a fixed idea and constantly inhibit creative behaviors. Self-hypnosis teaches you to transform this energy into positive channels." You can learn to hypnotize yourself and program your mind with new ideas that will overcome the misunderstandings created by false ideas.
Lily Tomlin from the famed "Laugh In" show said in a promotional tour for the film "9 to 5," "If I had my own resident production company I would have a room with couches and headsets. Everyone would be able to go in there every day, lie down and listen to 'Gil Boyne's' tapes."
Don Powell from the rock group "SLADE" was also greatly helped by Gil. Don suffered from amnesia as a result of a violent automobile accident in the 70s and his career was cut short as a result. Don arranged to meet Gil Boyne in London and in a two-hour Hypnotherapy session in Gil's hotel room, his problem was solved.
I interviewed Don later and he said the experience with Gil had been fantastic and that he had really changed. Even the members of his group agreed about the change in him. Don and I had a lot in common because I had previously suffered amnesia from a car accident and had been in a mental "fog" for two and a half years. We had exactly the same symptoms. Gil cured me completely in one ninety-minute session in front of his training class in Glendale, California. I had visited his classes for two days and on the second day I was cured. After years of trying various doctors and psychiatrists and not gelling anywhere – I CAN TELL YOU I BELIEVE!