Top hypnotist's incredible psychic power cures arthritis & dissolves kidney stones
By John Sainsbury – National Examiner, March 30th, 1982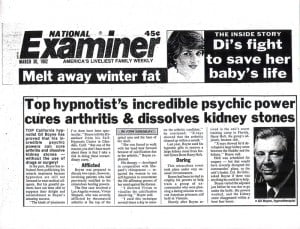 TOP California hypnotist Gil Boyne has proved that his incredible psychic powers can cure arthritis and dissolve kidney stones without the use of drugs or surgery!
In the past, Boyne has refrained from publicizing his miracle treatments because hypnotists' are still not licensed to treat medical ailments. But his grateful patients have not been able to suppress their delight and astonishment at Boyne's amazing success.
"The kinds of treatments I've done have been spectacular", Boyne told the Examiner from his Self-Hypnosis Center in Glendale, Calif. "But one of the reasons you don't hear much about them is that I take a risk in doing these extraordinary cures."
Afflicted
Boyne was prepared to discuss two cases, however, involving patients who had previously testified to his miraculous healing powers. The first case involved a Los Angeles woman, Vivian Shepard, who was severely afflicted by rheumatoid arthritis at the top of the spinal area and the base of her skull.
"She was forced to walk with her head bent forward because of calcification due to the arthritis, Boyne explained.
His therapy – developed in cooperation with Shepard's chiropractor – required the woman to use self-hypnosis to concentrate the life-affirming powers of her mind against the disease.
"I directed Vivian to visualize the calcification dissolving", Boyne said. "I used this technique several times a day to counter the arthritic condition," he continued. "X-rays showed that the arthritis cleared up within a month."
Last year, Boyne used his hypnotic gifts to remove a large kidney stone from former Green Beret Harry Holt.
Daring
This miraculous event took place under very unusual circumstances. Boyne had been invited to employ his powers to help train a group of 'ex-commandos who were planning a daring mission to rescue American prisoners still held in Vietnam.
Shortly after Boyne arrived in the unit's secret training camp in Florida, Harry Holt, the group's adjutant, became sick. "X-rays showed he'd developed a large kidney stone between the bladder and the kidney", Boyne said. Holt was scheduled for surgery – but that would have severely disrupted the commandos' plans, so the unit's leader, Col. Bo Gritz, asked Boyne if there was anything he could do to help.
Boyne visited the adjutant just before he was due to go under the knife. His powers worked, and the kidney stone disappeared within about four hours.