This news item appeared in the Sunday People on 27th September 1981
HYPNOTIST GIVES ROCK STAR NEW LIFE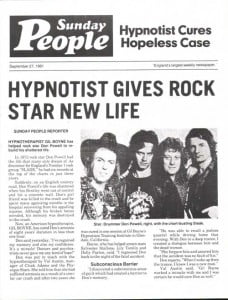 HYPNOTHERAPIST GIL BOYNE has helped rock star Don Powell to rebuild his shattered life.
In 1973 rock star Don Powell had the life that many only dream of. As drummer for England's Number 1 rock group "SLADE", he had six records at the top of the charts in just three years.
Suddenly, on an English country road, Don Powell's life was shattered when his Bentley went out of control and hit a concrete wall. Don's girl friend was killed in the crash and he spent many agonizing months in the hospital recovering from his appalling injuries. Although his broken bones mended, his memory was destroyed in the crash.
Now, an American hypnotherapist, GIL BOYNE, has cured Don's amnesia of eight years' duration in less than one hour.
Don said yesterday, "I've regained my memory and also my confidence. It's a miracle' Doctors and psychiatrists never gave me any kind of hope!"
Don was put in touch with the hypnotherapist by Val Austin, manager of Cloak Adams and the Physique Stars. She told him that she had suffered amnesia as a result of a similar car crash and after two years she was cured in one session at Gil Boyne's Hypnotism Training Institute in Glendale, California.
Boyne, who has helped screen stars Sylvester Stallone, Lily Tomlin and Dolly Parton, said, "I regressed Don back to the night of the fatal accident.
Subconscious Barrier
"I discovered a subconscious sense of guilt which had created a barrier to Don's memory. 
"He was able to recall a jealous quarrel while driving home that evening. With Don in a deep trance, I created a dialogue between him and the dead woman.
"She forgave him and assured him that the accident was no fault of his."
Don reports, "When I woke up from the trance, I knew I was a new man."
Val Austin said, "Gil Boyne worked a miracle with me and I was certain he would cure Don as well."